If YOU are suffering from Post Traumatic Stress Disorder, Encouraging Words Counseling, Inc., in West Virginia, can help. Call us today to discuss your specific needs with someone at our counseling center.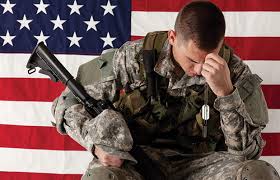 Post Traumatic Stress Disorder (PTSD)
Historically, PTSD has been one of the more difficult syndromes to treat effectively. Well-meaning admonitions to "get over it" or "move on with your life" do little more than add to the frustration with which traumatized individuals view their situation. People who have experienced a traumatic event sense that they are to some degree "defined" by those moments.
These resulting thought processes are common to individuals who have experienced trauma. Elements of PTSD include the excessive emotional and behavioral reactions to external and internal stimuli that are reminiscent of the original trauma. Traumatized individuals will report difficulty trusting in themselves and trusting their ability to interpret and respond to life situations effectively.
If they have experienced abuse, they might also have difficulty trusting others. Their interpretation of their daily life experience will be unduly influenced toward seeing the negative while ignoring, minimizing, or dismissing the positive. They often experience a sustained high level of arousal called "hypervigilance." Avoidant behavior is another common characteristic.
Both traditional psychotherapy and medication have not proven to provide significant relief from symptoms or generate resolution of the source disruption. As the brain is compelled to maintain its reactivity, efforts to modify this reaction via conscious control have shown to be limited in effectiveness.
There is hope! Non-Traditional approaches such as EMDR, Baud Therapy, and Neurofeedback, combined with Brief Therapy counseling have been shown to be very effective in treating this issue.